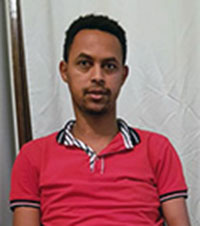 My name is Muse, I came to Sweden from Eritrea last year in September.
When I was child I got polio which is affecting both my legs and my hands too.
When I was a new asylum seeker I was searching how to get information about living in Sweden as a disabled migrant. Google brings Disabled Refugees Welcome (DRW) to the first row. The information about the project and the picture of the staff on the web page create a feeling of belongingness. Information is found in different languages for ex, Tigrigna. In the photo of the staff, I can see a diversity of colors. I decided to contact the project.
With my first call to DRW I got a very welcoming reception with basic information which is very important for the one who is in the asylum process like me. Rahel gave me an appointment for the next step, which was for an action plan with DRW. Every time I got a call from DRW I got something which made me more capable to ask for my rights and how to do so.
When I got the residence permit, Rahel was one of the first to know. When I was placed in Stockholm I was very happy because I can meet DRW in person.
Rahel came to my place. Now my status has changed so we modified the action plan again. I got actual support from Rahel to contact and communicate with different authorities and organisations. I got information on what I have to get as quick as possible because I was learning where and how to contact for my needs.
Julius, one of the staff of DRW at the time, gave me very important guidance on the family reunification process, as he was passing through that.
Rahel connected me to BOOSE råd och kunskap. They gave me actual support for an application to Färdtjänsten. Now I have färdtjänst. I want to thank BOSSE.
My contact with DRW has been regular. Step by step I am learning how to cope with the situation in Sweden. What kind of rights I have, how to access them, how to prioritize my issues.
Not only that, I also began to see myself as a person with a disability in a new way. I was denied it all my life. I never admitted it, I never talked about it openly. I never met people who have a disability. DRW was an eye opener for me regarding disability. I gained self-esteem.
Every time when I am participating in the activities of DRW I feel more strength and confidence. Each and every meeting is directing me to empowerment and self-determination.
I have learned a lot so far, I know I will learn more in the future.
It is sad that DRW is finishing soon. It was a very important project. I am the witness to how the DRW work is vital regarding guidance and advice on the journey of integration. Especially when one found the project as early as possible like me. I didn't get anywhere else such guidance.
Now I am focusing on my study of SFI, at the same time reading much to know more.
My ambition is to continue my study to a high level and to start a family together with my partner who is living in Eritrea just now.