Hello! I'm Ellie, a new intern with ILI. I am a 2022 Watson Fellow from Alabama, USA.
I am so excited to jump into the important work that ILI is doing!
I have three older siblings and a wonderful fiancée back at home. I also have a cat, Lyla (see below), whom I miss every day.
I graduated from Davidson College in May 2022 with a degree in psychology and anthropology.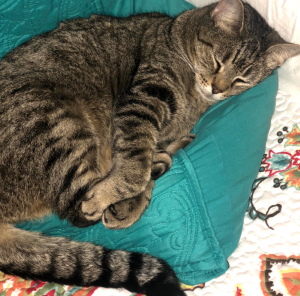 Why ILI?
I have a longstanding passion for disability advocacy. I have been involved in different types of legal advocacy and community building for 8 years now! Being disabled myself, I believe that there is true strength in community. I created an organization while I was in school that focused on
social and academic support of disabled students. I am so thankful to continue to learn and pursue Disability Advocacy with this foundation!
If you want to know more about my Watson Project or why I chose Sweden, feel free to check out my blog!
Watsonwanderlust.com
Ellie Lipp