DHR Bidragsstiftelsen (the grant foundation) awards grants for things that can improve life for people with reduced mobility. The idea is that more people will have a better and richer life.
But note that the application period is only between 1st May and 1st September each year so the deadline for 2022 is fast approaching!
DRW/RTA had a zoom meeting with Susanne Wettby, administrator at Bidragsstiftelsen, in July, when she explained about the foundation and the requirements for receiving grants.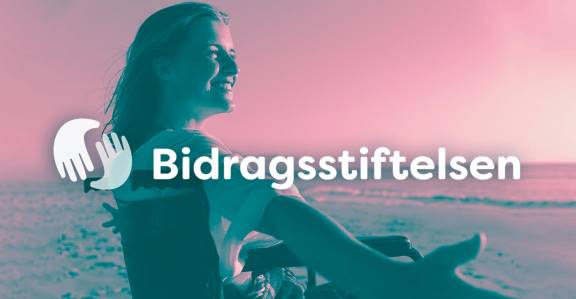 Contribution to everything possible
You can get grants for almost anything that can make life easier and better, and Susanne Wettby gave a number of examples: computers, mobile phones, travel and various aids that you cannot get from public service providers : adjustable furniture or special wheelchairs. You can also get a grant to get a driver's license.
– However, we do not provide grants for cars or adaptations to cars, she said.
Certain conditions
However, there are certain conditions. Firstly, you must live up to the criterion that you have a mobility impairment and a medical certificate to that effect (which must be attached to the application). Then it is required that one does not have "too high an income" to comply with the Swedish Tax Agency's rules on gifts.
– The last year's declaration must be attached to the application. You may not earn more than four "base amounts" if you are single. That means 193,200 kronor/year and then you add another base amount for everyone who lives in the same household.
Another rule is that you cannot receive a grant several years in a row.
– So if you received a grant one year, there is no point in applying the next year, but then you have to wait until the following year, said Susanne Wettby.
The application period ends on September 1st!
The application period is between May 1st and September 1st each year, and Susanne Wettby warns that you won't get an answer until December. It is a rather complicated process to select who will receive a grant or not and it is finally decided at the Grant Foundation's meeting in November each year.
– So if you are thinking of applying for money for a trip in the summer, there is no point in applying for money in May because you will still not receive any information until December, said Susanne Wettby.
Search from several at the same time!
Last year, Bidragsstiftelsen received 463 applications from private individuals, of which approx. 300 were granted grants. The reasons why you didn't get it, said Susanne Wettby, are usually that you didn't live up to the conditions that were mentioned earlier – that you have too high an income or that you don't belong to the target group.
One tip she gave if you want to apply for something that costs a lot of money is to apply for money from several sources at the same time.
– If, for example, you want a special wheelchair for 100,000 kronor, you can apply for part of the sum from the Bidragsstiftelsen and the rest from other funds and foundations, as long as you mention it in the application. You absolutely have to do that!
Several ways to fill out the form
If you want to apply for a grant from Bidragsstiftelsen, it is easiest to go to their website: https://www.bidragsstiftelsen.se/ and click on "Application" and then scroll down and click on "Application online". You need a mobile bankID, but if you don't have one, there are also other ways, said Susanne Wettby.
– You can print the form and send it to us by post. And if you don't have access to a computer or printer, you can contact me and I'll send you a form. We cannot complete the form for a person, due to regulations related to GDPR, but I can help and explain how to do it over the phone.
Formed in 1961
Bidragsstiftelsen was established in 1961. The full and original name of the foundation is actually De handicappedes riksförbund's Bidragsstiftelsen, but no one says that anymore, just "Bidragsstiftelsen". Susanne Wettby said that the foundation is independent and that the only connection to DHR is that their board appoints the board of the Bidragsstiftelsen.
The board has decided that they will prioritize children and sports activities.
Organizations can also apply for money from the Bidragsstiftelsen, which ILI did a couple of years ago, which resulted in our publication The freedom to decide with whom, where and how one wants to live – Avinstitutionalisering/Deinstitutionalization (DI) in Sweden . which will also be available in English shortly. Keep an eye on the ILI: website !