There is much that is good about Sweden, but for a migrant with a disability, the path into Swedish society is long and difficult. That is what Mussie Berhe Russom says, one of the participants in the project focus group, who came to Sweden from Eritrea in 2019
Now he lives in a boarding house in Hässelby and describes a tangle of different problems with many elements of catch 22.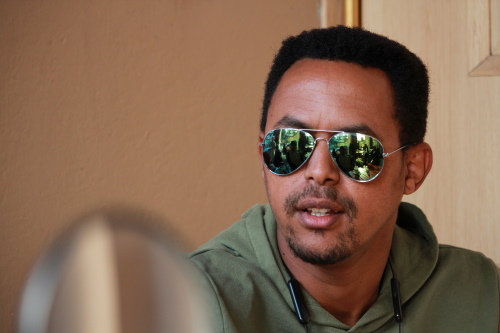 One of the reasons why Mussie Berhe Russom is visiting ILI's office in Farsta today is that he wants to meet the project's advisors Rahel Abebaw Atnafu and Tony Zolomyan. Mussie Berhe Russom wants to talk with Tony because Tony has extensive experience studying and student loans in Sweden. Mussie has plans to continue his studies, but the extremely tight finances this would entail causes concern.
– CSN (Centrala studiemedelsnämnden) makes no payments during the summer break. What will I live on then? I can't get a summer job…
Forced to live on microwave meals
When Mussie Berhe Russom was granted asylum in 2020, he was moved (he still does not know why or who made that decision) from Jönköping to a boarding house in Hässelby, north of Stockholm, where he still lives. There, he receives home help for about 30 minutes a day, when the staff helps him with shopping and preparing food. But the lack of time means that they cannot cook , and Mussie almost exclusively eats meals that are heated in the microwave. The stove is high for him to cook himself, he says.
– With a stove that can be raised and lowered, I could cook the food myself. Then I would just need help with shopping.
Have you explained this to the municipality?
– Yes, I have told the Aid Officer several times, but she says that it is like that for everyone. They say that the apartment is temporary and that I wont stay there permanently.
Difficult financially
Eating only microwave food is also expensive for a person with already very scarce resources. The establishment allowance of between 6 and 7 thousand kronor a month is the same for everyone and does not take into account the extra expenses people with disabilities have, for example, for transport services or that they do not have the opportunity to save money by shopping around
The fact that the money is not enough means that Mussie Berhe Russom is forced to seek financial assistance (social assistance).
– I have to make such an application, including supporting documents for various things they require, printing it out, getting a report from the bank and so on, every month. I have to collect all the documents and in the winter when there is a lot of snow it is very difficult for me to get there. It affects me a lot when I study and don't have an adapted housing situation.
Made early contact with Disabled Refugees Welcome
Mussie Berhe Russom came to Sweden from a completely unsustainable situation in Eritrea in 2019. As an asylum seeker, he was placed in Jönköping. He tells us that he found Disabled Refugees Welcome on the internet.
– When I lived in Jönköping and was an asylum seeker, I had a lot of time to search online and I thought a lot about whether there was anything about disability. Then I found DRW and saw the video with Julius… Then I called and got to talk to Rahel…
What support have you received from DRW?
– I have received information about my rights as an asylum seeker and as a migrant and about how the system works in Sweden. They also referred me to other organizations, for example Bosse Råd Stöd & Kunskapscenter, which in turn helped me to apply for travel services and housing adaptation. They have also said that when I am in contact with the authorities, I must tell them about my disability if I am to get the help I need.
With the Focus Group
Mussie Berhe Russom joined the project focus group early on, the focus group are people who maintain active contact with the project and who, with their experience of their own disability and being a migrant, contribute invaluable expertise to the project. The group has continued on in the new project Disabled Refugees Welcome – The Right to Work. He says the group gives him the feeling of being a co-owner of the project.
– It gives us a power to influence because we contributed to the very idea of ​​the project and are involved in directing it.
What are your hopes for the new project?
– To improve my knowledge and my abilities, how to write a CV and personal letter and in the long run to increase my chances of getting a job and being integrated in Sweden.
Want to work with market economy
Now the two-year establishment period has come to an end and Mussie Berhe Russom says that he is thinking a lot about how he can move forward in order to have a life that works in Sweden. Mussie is currently studying Swedish as a second language at Komvux and wants to study further. He has a high school education from Eritrea where he also started a university education before he was forced to flee.
– It was such a turbulent time then and it was very difficult for me. The whole situation came crashing down and I had to stop my studies and later flee from there.
What do you want to work with?
– My plan is to work with market economy.
Two year establishment process too short
Mussie Berhe Russom says that there is a lot of good in Sweden, but that life as a migrant with a disability makes it very difficult to enter Swedish society. A two-year establishment process, for example, is far too short for many people with disabilities.
– This means that you are expected to finish in two years, but for a person like me it is difficult. I can't take just any job, I have to find a job that works with my wheelchair.
New housing contract every month
Another big problem is the housing situation.
– My housing contract must be renewed every month and I can only live in the hostel residence for a maximum of 3 years. So I am constantly unsure whether I will be allowed to stay or not. Not knowing for sure where I will live also makes it difficult to apply for education and work. If I didn't have a disability, I could look for a job and maybe get a home in another way, but that path is closed to me.
"Everything is digital"
Another issue is that everything is online now, a  process that Sweden has gone through in the last 10-20 years – "that everything is online" as Mussie Berhe Russom says.
– Many of us have no way of knowing how to live in this digital world, either because you may not have a mobile phone or computer or because you do not have the necessary knowledge.
But you have a computer and mobile phone now?
– I have a mobile phone and an old computer at home. And, thanks a lot to the information I received from the project , I have applied for a new computer from the Grant Foundation.
Closed doors to Sweden
Mussie Berhe Russom says that he would like to learn more about Sweden and be integrated as is expected of new arrivals. But…
– How can we learn about Sweden? We have no opportunities to learn anything about Swedish traditions or culture. Those doors are closed to us. We need networks and more initiatives like this project.
Later in the day, Mussie gets to meet Tony.
How did it go? What did Tony say?
– As I thought, no money comes during study breaks, so you either have to work then or turn to social security. I still don't really know how I'm going to do it, but I have to think about it further. Tony also advised me to meet a study counselor so that will be the next step, says Mussie Berhe Russom.