Brooke Antol from the USA
My name is Brooke Antol, and I am about to begin my last academic year at North Carolina State University, where I am studying Political Science with the goal of attending law school after graduation. I chose to come to Sweden for the summer because I was eager to learn about Swedish and Scandinavian culture. I felt as if it was a great chance to grow and learn personally and professionally while living in a new environment.
I have had the fortunate opportunity to spend this summer interning with the Independent Living Institute (ILI) on the Disabled Refugees Welcome (DRW) project. Throughout my daily tasks, I was able to interact with numerous individuals in the office. This has allowed me to gain a well-rounded understanding of how ILI and DRW function as well as the work they produce. I was able to learn a lot about the legal and legislative framework of the project as well as the roles of advocacy and connecting with project participants.
During my time with ILI and DRW, I was able to gain ample knowledge about the Independent Living movement, which I have as yet not come in contact with in the United States. I valued the opportunity to learn more about the movement before taking a more hands-on approach to the project. What I learned was further supplemented through my interaction with other NGOs at Järvaveckan and through study visits with representatives from Bosnia and Belgium. I appreciate the value of promoting individualized plans to encourage integration and independence. Each individual in the target group has their own abilities and needs to be evaluated accordingly, so one solution would not best benefit everyone.
By working on a family reunification case, I gained substantial knowledge regarding the legal field, specifically the steps taken in legal advising and appealing a case to a higher court. I found it very interested to divulge myself in case law to learn about which approach would be best suited for obtaining the most desirable result. It was a unique opportunity to compile research and form an educated opinion regarding the case.
I am grateful for the time that I got to spend with DRW and ILI, as I enjoyed the opportunity to be immersed in such an international work culture and environment. I was able to engage with my coworkers and learn a lot about their respective backgrounds and experiences. I am extremely thankful for the DRW and ILI team, as they were extremely welcoming and helpful in aiding my successful completion of the internship.
And meet Caitlyn Thurbur from Minnesota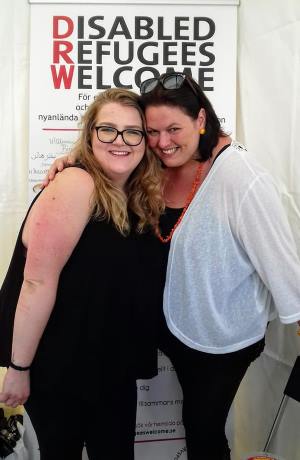 Hello! My name is Caitlyn Thurber and I am from Minnesota in the United States. I am going into my final year of my undergraduate degree at Winona State University in Winona, MN in Sociology and minors in Ethnic Studies and Women, Gender, Sexuality Studies. I've always wanted to study abroad in Europe when in college and I needed to have an internship to graduate as well, so I figured an internship abroad would be a perfect way to spend my summer. I've always been fascinated with Sweden and Scandinavia in general so I was so excited when I discovered my internship would be in Stockholm. As someone who works with people with disabilities at home and has done research with immigration in the United States, interning at the Independent Living Institute (ILI) with the Disabled Refugees Welcome (DRW) has been such a wonderful place to be working at for these few weeks here in Sweden.
During my time at DRW, I've been able to have many amazing opportunities to work with ILI, DRW, project participants, coworkers, and other interns as well. I've worked on some legislation mapping about Sweden and specifically the asylum-seeking process and laws regarding what resources are available to asylum seekers while in Sweden. I have also been to multiple study visits from Bosnia and Belgium and had the opportunity to listen to perspectives of the Independent Living Movement and institutionalization from different countries besides Sweden and the United States. My favorite event was the Järvavecken from June 12-16. Coming from the United States, seeing an event like this take place and being able to take part in it was a great experience. I learned a lot about people who DRW works with, other Swedish organizations, and Sweden's politics and government. I'm currently working on my final paper which will discuss migrant camps in Sweden as well as the migrant camps in Mexico that the US is placing asylum seekers in and asylum-seekers' experiences there.